The Archives of Security Service of Ukraine helped me to find relatives whose existence I did not even suspect. It happened after the publication of my article titled "The Monument of the Murderer on the Graves of His Victims" (in Ukrainian) in «Lb.ua» website about a newly erected monument to Stalin in Zaporizhzhya city. I told the story of my grandfather who was murdered by Stalin's regime in 1937.
I posted a copy of that article to my personal web site and soon I got a testimonial from my second cousin Marharyta Frolova whose grandfather Kostiantyn Lukanov, born in 1906, was my grandfather's brother. She wrote that he was also assassinated during the Stalin's epoch. My father Vadym Lukanov died when I was two and a half years old and my father's other relatives died as well, so there was no one to tell me his tragic story. Though I knew a bit about the fate of my own grandfather I had no idea that he had any brothers.
The story Marharyta told me touched me deeply and I decided to find the criminal case file of her grandfather. To see whether it is available I visited to the website "Stalin's Execution Lists" at stalin.memo.ru which lists people executed in 1937-38. Kostiantyn I. Lukanov was listed next to his brother, my assassinated grandfather Pavlo I. Lukanov. Then I filed an application to the archive of the Security Service of Ukraine and asked permission to review the criminal case of my assassinated relative. In three weeks they called me and invited me to see the file.
If you decide to follow my steps and study the fate of your ancestors, be prepared that you may face psychological stress.  What you would be reading would not be fiction describing the lives of people you never knew. The folder labeled "Case № …" would be revealing facts about a man whose blood flows in your veins. Hypothetically you could have known this man if he remained alive. And if you dig deep into the heart of the case, you may feel even worse, because the case of your assassinated relative would make you comprehend not only the brutality of the epoch, and also its stupidity.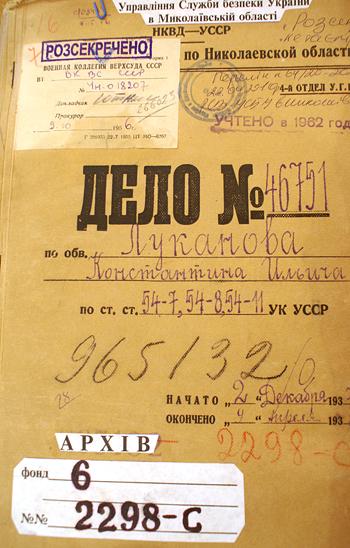 See for yourself. The list of possessions seized during the search of Kostiantyn Lukanov`s apartment that preceded his arrest on December 2, 1937 lists foreign coins – 9 silver and 2 copper pieces. They were probably the memorabilia he brought from his training at the famous Italian "Fiat" factory. The report on his internship was also listed among the items confiscated. He used the knowledge acquired abroad in his work as Deputy Chief Engineer at Mykolaiv's defense plant named after Marti. It was one of the key Soviet enterprises that manufactured military ships. The USSR had few professionals with the experience of internship in a foreign country, so they should have been valued highly. However 32 years old Kostiantyn Lukanov was assassinated for no apparent reason, and money spent on his education abroad and his professional skills were wasted. Is it not stupid?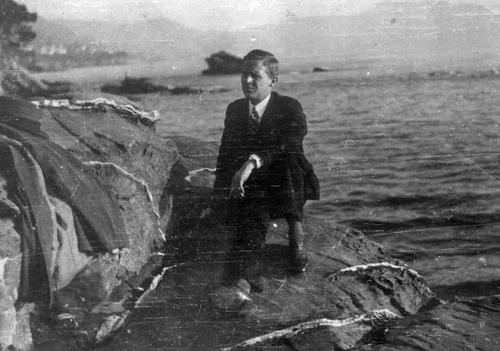 Hypothetically an "Anti-Soviet Trotskyi's Organization" that planned to damage the Soviet Union could have existed in reality. But when I read the protocols of interrogations I realize that only a ten year old naive child would believe such nonsense. KGB investigator Sergeant Voronin (all the officers on that case signed only their last names, no first names, no initials) reported that Kostiantyn Lukanov confessed that he was enlisted in the "Anti-Soviet Trotskyist Organization" by Serhii Stepanov, the factory director.
Supposedly he invited Lukanov to his office, told him the country must be saved, offered Lukanov to became a member of "Anti-Soviet Trotskyist Organization" and Lukanov agreed immediately. Three other members that Lukanov allegedly recruited to the organization agreed to do it so readily as if it was a picnic party and not deadly business. The work of the members of this "criminal gang" was simple – they harmed the production of the factory. However the brutal methods of investigation that were usually used to gain such nonsensical confessions are now well known.
It is one thing when you read in books that Stalin`s courts worked as a conveyor but  it is a completely different perception when see with your own eyes the text of the final judgment on a case which consists of … one paragraph. In court Kostiantyn Lukanov denied his previous confessions and did not admit guilt. However, that did not help him: he was executed immediately, on the same day as the court hearing – on 10 April 1938. This is referenced in his file.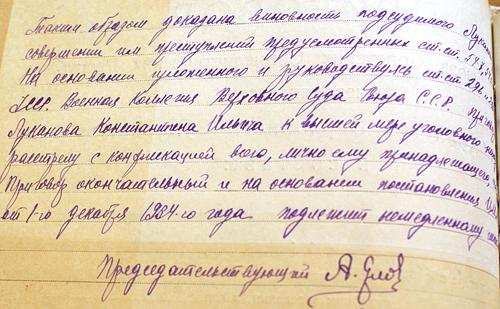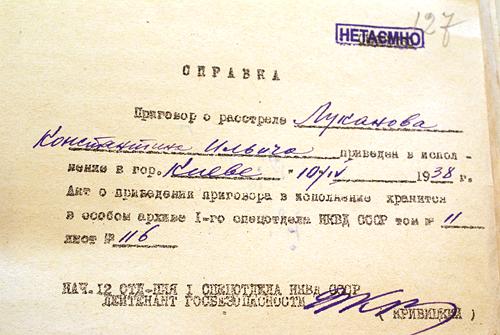 His widow Tetyana Kovaliova was lucky not to be sent to the Gulag like my own grandfather's wife Olha Volkovsky. But Kostiantyn's widow did not have an easy life  raising two small children – 11 year old Anatoliy and 3 year old Natalia. This woman was evicted from her apartment and had to beg her relatives for the shelter. During the war they found themselves under German occupation.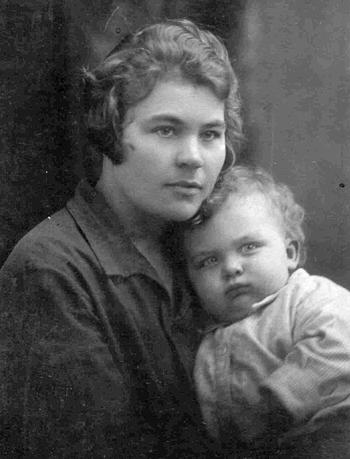 Tetyana and Anatoliy Lukanovy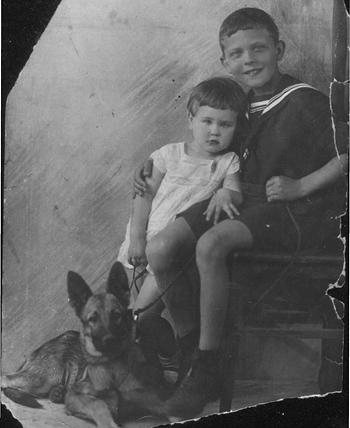 Germans killed Anatoliy on the eve of liberation of Mykolaiv by the Red Army. Natalia became an English philologist, married a military interpreter. The couple traveled across the country and even visited Iraq. They finally settled in Moscow. They have two daughters, one of them is my second cousin Margarita.
The criminal case file contains a letter dated November 28, 1958 to the Military Prosecutor of the Odessa region sent by Ivan – the third brother of the executed Lukanovs. He pleaded for their rehabilitation. And his two brothers were finally rehabilitated. However Ivan told his sons very little about this case. His son Mykhaylo Lukanov who is now retired and lives in Mykolaiv said his father until his very death did not lose his fear.
Incidentally, I discovered Mykhaylo's existence after my publication of grandfather's history. That was an original greeting to me from Stalin from year 1937.
The "Anti-Soviet Trotskyi's Organization" at Mykolaiv plant named after Marti included about fifteen members. I inquired in the archive whether I can see the criminal cases of others members of the group. However it turned out that according to the law the personal files can be examined only by relatives, others should get the permission of relatives. No exception is set even for socially important files such as Vyacheslav Chornovil`s criminal case.
Yuriy Lukanov